Today (Monday 6th) and tomorrow will see temperatures rise into the low to mid-twenties across Ireland, before turning less warm from Wednesday.
An area of low pressure to the west of Spain has allowed very warm air from north Africa to push up across Ireland, bringing above average temperatures for September.  In mid-summer this type of airmass would result in temperatures exceeding 30 Celsius in parts of Ireland, but as we approach the autumn equinox and the days are shorter – there is less time for heat to build.
Met Éireann meteorologist, Matthew Martin, said: "Along with a warm southerly airmass, Ireland is influenced by high pressure over the next few days helping to keep weather fronts largely at bay.  This means most places will enjoy long spells of sunshine today and tomorrow, though mist and fog may linger across some southern and eastern coasts through the day.
"Temperatures will reach around 25 Celsius today and possibly up to 27 Celsius tomorrow, with these highest temperatures expected in the midlands."
"Not everywhere will be sunny and warm today though as parts of Ulster and Connacht will stay rather cloudy with some patchy light rain too, however tomorrow these areas will join the rest of the country with long sunny spells."
It'll stay quite warm overnight through the week with temperatures not falling below 15 or 16 Celsius in some places.
The average maximum temperature for Ireland during September is nearly 17°C, while the average minimum temperature is 9°C. The highest September maximum temperature on record in Ireland is 29.1°C, recorded on 1st September in Kildare on Saturday 1 September 1906.
Commenting on the forecast for the rest of the week, meteorologist Matthew Martin continued: "Wednesday will be another warm day with temperatures in the low to mid-twenties.  However some heavy, scattered showers are likely to develop as an area of low pressure moves towards Ireland bringing more unstable air.
"Thursday and Friday will see the sunny spells and scattered showers continue, these could be heavy and thundery and possibly turn quite widespread, especially on Thursday.  It won't be as warm by the end of the week with temperatures falling back to around 17 to 20 Celsius."
UV levels will be moderate in sunshine this week, be #SunSmart and follow the advice from Healthy Ireland: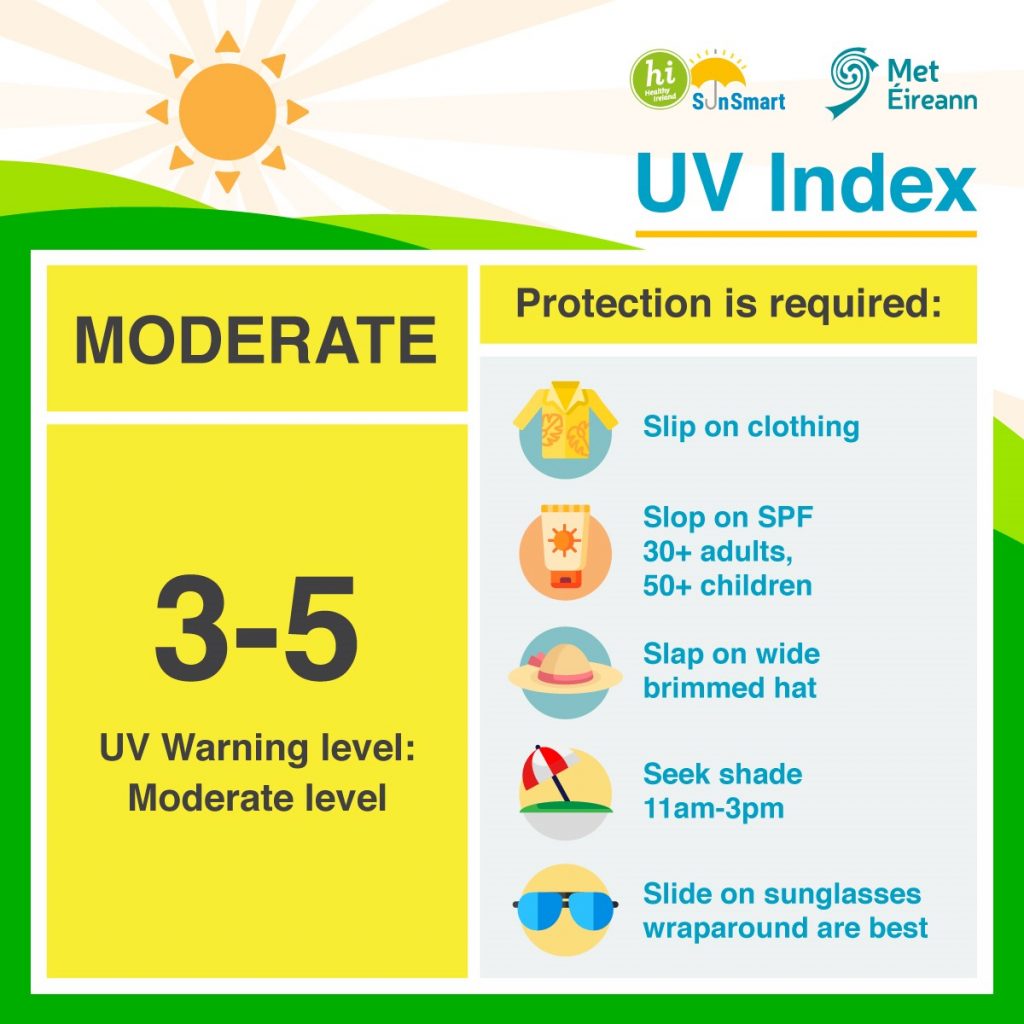 ---
Whatever the weather please follow the public health advice and help keep everybody safe from COVID-19.
For the most accurate and up to date 7-day, hourly forecast for your local area on the Island of Ireland go to met.ie. The latest weather advisories and warnings for Ireland are on the Met Éireann Warnings page. These services and more are available on our free app – available from the App store for iPhone, and Play store for Android. Follow us on Twitter and Facebook for extra weather and climate content.