A Typical Late-Summer Type Setup
Published Friday 14th of August
During the last week, Ireland, and to a much more exceptional extent our neighbours in southern Britain, have been experiencing very warm and humid conditions. This has been due to very warm or hot air over the European continent being transported northwards over our part of the world.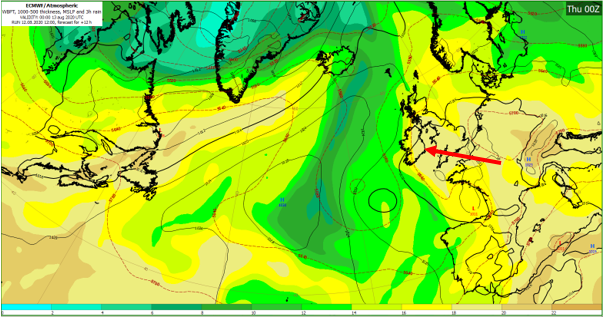 But that hot continental air has had low pressure associated with it. The combination of low pressure and warm humid air produced conditions that triggered thunderstorm activity. Torrential downpours and frequent thunder lightning occurred over southern parts of country on Wednesday night.
Another aspect of the conditions over the last week has been the generally light winds associated with what meteorologists would describe as a slack pressure pattern. The low pressure that has been affecting us hasn't been particularly low – varying between 1010 and 1014 hPa – and rather than a tightly coiled feature that we would tend to witness with a storm system, the pressure pattern over us looks kind-of bland with big spaces between the isobars and accordingly, generally light winds.
06z Analysis on Thursday 13 August 2020
Where Thunderstorms have formed, they have been quite slow-moving – because of the light winds -and they have therefore managed to dump some high rainfall amounts leading to significant spot flooding.
There will be little change in the pressure pattern out to around Tuesday next week so the risk of heavy or potentially thundery downpours will remain until then, with the exact detail varying day to day and dependent on parameters like cloud cover and daytime heating.
Later Next Week:
Looking ahead to around midweek next week, we have to look further afield. And our meteorologists are keeping an eye on developments in the Atlantic. Currently we're following a low pressure area which is expected to form southwest of Greenland (A in the picture below) and how that is going to interact with another feature which is currently off the coast of North Carolina (B in the picture below).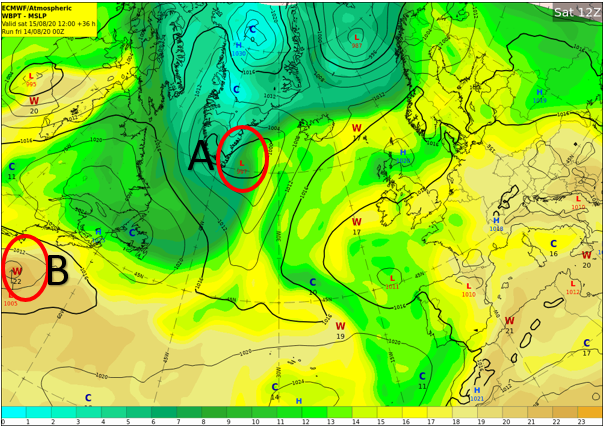 ECMWF Surface Pressure Chart over-layed with 850hPa temperatures for Saturday 15 August
The "B" system has attracted the interest of National Hurricane Center forecasters who are monitoring it for tropical development: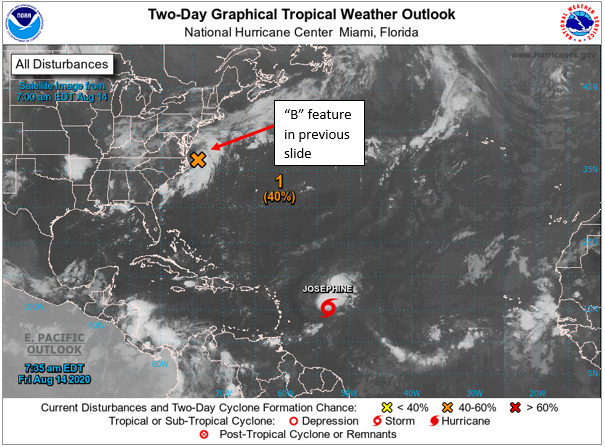 Regardless of what ends up happening, the interaction of the cold air coming down from Greenland and the relatively warmer air coming off the east coast of the US, is likely to result in a powering up of the Jet Stream across the Atlantic. With a strengthening of the Jet Stream, the return of an Atlantic-influenced westerly or south-westerly regime seems likely by around midweek next week, with Atlantic low pressure likely to bring spells of rain and noticeably windier conditions than of late.