The Department of Agriculture, Food and the Marine (DAFM) have issued a 'Condition Red' – Fire Danger Notice.
The notice includes:
"DAFM advise at this point that all outdoor use of fires, barbecues and other open ignition sources be avoided on forest lands and in other high risk areas until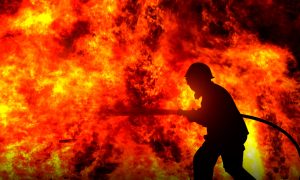 further notice. Extreme caution is also advised with respect to hay making and the use of machinery and other agricultural activity that may also present a risk of fire in dry vegetation on cultivated land types in current conditions."
Fire Danger Notices are issued largely based on meteorological factors. Numerical fire risk models, such as the one run by Met Éireann, analyse recent and predicted weather conditions and categorise potential fire risk. The Forest Service (part of DAFM) uses information such as this, as well as knowledge of potential fuel stocks, human activity and their own considerable experience, to classify and issue Fire Danger Notices.
The full Condition Red – Fire Danger Notice can be viewed on their website.